Rainbow Project 2017
It's that time of year again: Rainbow Project time! After enjoying the box last year, I decided to do the sensible thing and pick up the 2017 incarnation. It came in a rather fetching yellow box this time. As well as the 7 beers, you also get a branded glass and a booklet much like last year.
For the uninitiated: 7 UK breweries collaborate with 7 international breweries to brew 7 beers based on the 7 colours of the rainbow. Seven.
This year the international breweries are from the U S of A, harking back to the 2015 Rainbow Project. On top of this, each brewery partnership for this year have also designed a barrel-aged beer for next year also (to give the beer time to age, obviously), which should result in some excellent beers in 2018.
Anyway, as per last year, the super imaginatively titled 'Expectations vs. Reality' theme makes a comeback where I will detail each beer, what I'm hoping from the beer and what the cold, hard reality is. There are some cracking sounding beers here so I hope they don't disappoint.
Amanecer Mexicano - Lime, Hibiscus and Chilli Gose 5.8% // Magic Rock x Casita Cerveria
What the booklet says: We drew Red and Casita this year and bandied about a whole bunch of ideas. Eventually, we realised we were circling around Mexican flavours that we all loved, so Ryan, Rich, and I looked into the flavour profiles from some traditional Mexican drinks and dishes that A) we like, B) played well together, and C) wouldn't completely terrify the British palate! In the end we decided that the rich, savoury, sweet, chocolate and umami flavours in mole sauces that come from a wide variety of dried chiles, tamarind, and cinnamon would provide the subtle base of the beer, and be accentuated by bright tart flavours of hibiscus and lime– just like you might find in a traditional tiendecita. A subtle complexity of flavours in the meal followed up by refreshing tastes from the aguas de tamarindo, Jamaica, limón, and horchata.
Expectations: With Magic Rock being one of my favourite breweries, gose beers being my favourite type of sour and being a huge fan of Mexican food, this sounds right up my street. The brainchild of the Rainbow Project, Ryan Witter-Merithew (at the time was Siren's Head Brewer), is now the Head Brewer for Casita Cerveria so another tick in the positive column for this beer. I love lime, hibiscus and chilli so I'm excited to see how this turns out.
Reality: Hmm, an interesting beer. It's a very limey beer (to be expected) and the tartness and berry flavours from the hibiscus are also very prominent (again, to be expected). However, I am getting zero chilli here which I was hoping for with the finish. Instead, it's a slightly salty and fruity little bugger which is by no means a bad thing but I wanted some warmth or heat to hit me and was left a bit disappointed. A solid enough start though!
West Fork - Saison with Spruce Tips & Experimental Hop 522 5% // Partizan x New Belgium
What the booklet says: This year is orange so we thought about the idea of the destruction of nature and the rebirth of it such as a phoenix or fire destruction leading to regrowth. The area where the spruce tips were sourced is called Pagosa Springs, Colorado. It's in the San Juan Valley. Super gorgeous area. About four years ago, this area experienced terrible wildfires that were referred to as the West Fork Complex. About 109,000 acres burned. So this area is experiencing a ton of rebirth and growth after that fire. The new trees aren't mature enough yet to produce the quality of tips we used, but there's a rejuvenating story to be told there that all stems from fire.
Expectations: Hmm, not sure about this one. Saison is a style I'm not hugely enamoured with but with the addition of spruce tips and an experimental hop, there's at least something here to pique my interest. If I set my expectations low, it can't fail to impress, right?
Reality: Yeah, this is just a run of the mill saison. Can't really say anything more than that unfortunately. Boo.
Rex Apiary - Biere De Miel with Honey, Rosemary & Texas Dried Lemons 4.7% // Beavertown x Jester King
What the booklet says: Our colour this year was yellow so we thought about seasonal ingredients which were yellow in both of our areas, and decided on using honey and beeswax from local honey producers, and some texas dried lemons, with some rosemary to compliment the flavours. Jester King also shipped in some of their house culture which we used to ferment the beer. So the beer is a combination of what is local, and native to both of us. Aged for a few months in ex-Sauvignon Blanc barrels from France.
Expectations: Yep. I'm bang into this. Honey, lemon and rosemary are all great flavours that should compliment each other. The bottle is also beautiful. That Nick Dwyer is a clever bastard.
Reality: I like this a lot. Lemon is the biggest flavour here with the rosemary and honey coming through to give it a slightly sweet finish after the initial sourness. It's a very light coloured beer and has a very clean taste but packs in a lot of flavour for less than 5%. It's not a beer that I'd want to drink a lot of but is enjoyable all the same. Redemption after the orange beer!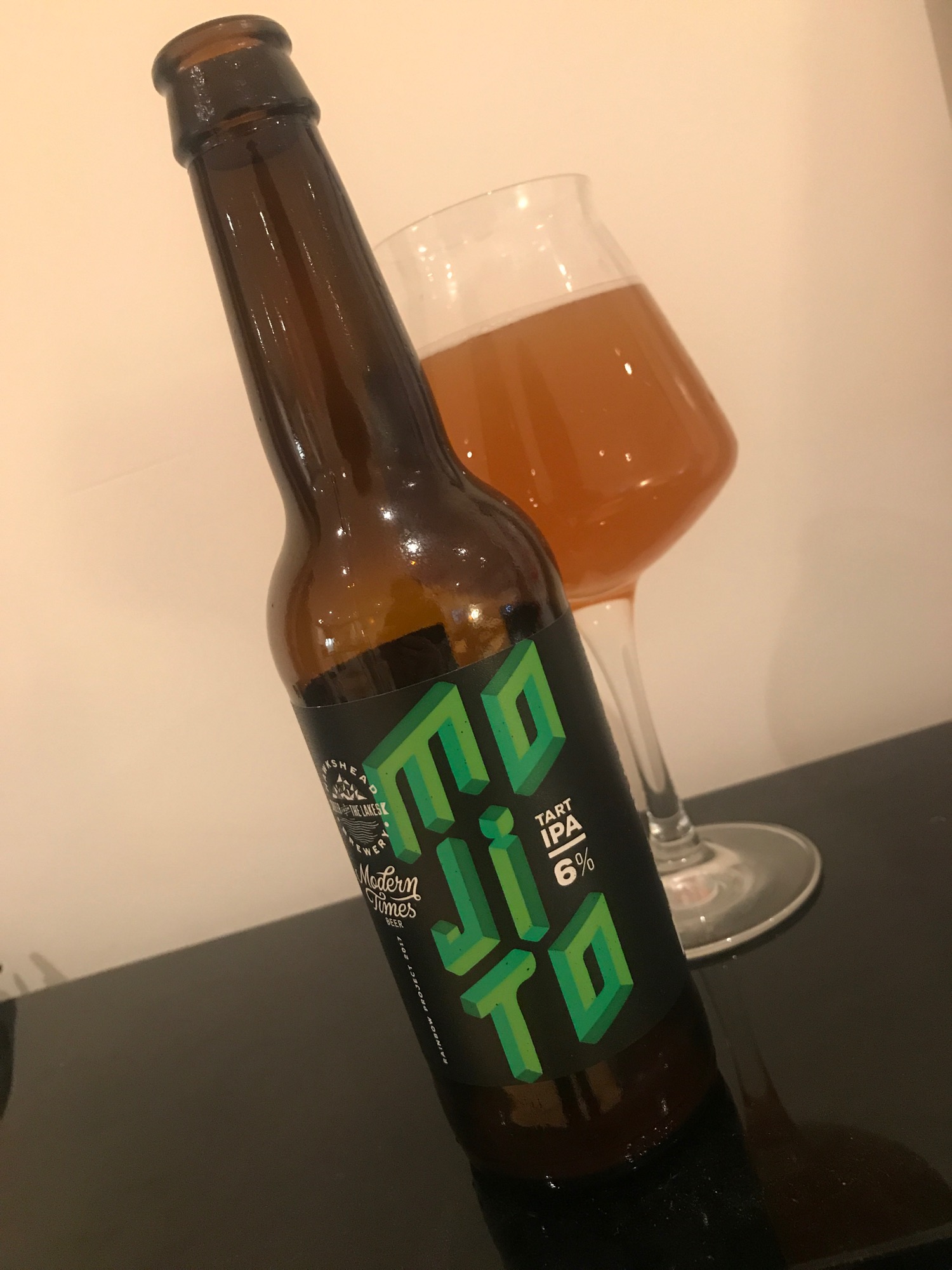 Mojito - Kettle Soured Tart IPA 6% // Hawkshead x Modern Times
What the booklet says: Inspired by the colour green, MOJITO is a collaboration between HAWKSHEAD & MODERN TIMES of San Diego, Ca.
It's a refreshingly tart, kettle-soured IPA. Dry hopped with aromatic new world hops – Cascade and Motueka, then further aged post fermentation on fresh mint, lime zest and oak rum cubes from Appleton rum estate.
Aromas of lemon and lime, enhancing the flavours of mint and fresh lime zest blended with very subtle oak rum notes, this tart IPA will have you rushing for the nearest beach lounger or hammock. Sit back and enjoy our take on the classic cocktail, Mojito.
Expectations: I do like a mojito now and then so I reckon I'll enjoy this. Kettle sours don't tend to be too overpowering in their sourness so combining that with the mint and lime should result in a well balanced refreshing beer. If only the sun was shining.
Reality: Another bit of a let down. This genuinely tastes like drinking an IPA after cleaning your teeth. I'm failing to really get any sourness from it because the mint is so strong and overpowering the taste of anything else. There's a very subtle hint of lime once it has settled on the palate but overall this just doesn't really work. Shame.
Santo del Frio - Dry Hopped American Lager 5.2% // Siren Craft Brew x Sante Adairius
What the booklet says: We drew the colour blue for this year's Rainbow Project, and set to work on the challenge, keeping our barrel aged beer in mind for 2018. We decided to go an entirely different route this time out and brew a lager with our new friends at Sante Adairius. It's fermented cold and the theme follows through; we added heaps of cryogenically frozen hops! We've used an American lager yeast sourced close to Sante Adairius' home in California. We've also taken some Mexican influence, with blue corn tortillas in the mash and blue agave syrup in the boil – which we aged in Tequila barrels beforehand for an extra flourish. We hope you enjoy Santo del Frio – Saint of the Cold!
Expectations: I'm partial to a lager now and then - especially in the summer but I struggle to get excited by lager in a box such as this. The added flair to this lager may help elevate it but it's not massively exciting, is it?
Reality: Redemption after the green disaster above comes this lager, or India Pale Lager which I am apparently a big fan of after having this and Beavertown's Westside Beavo earlier this year. I can't say I can taste any tequila or agave syrup in this but it is a very refreshing lager. I'd love to pick up a crate of this to enjoy at a barbecue. Pleasantly surprised by this one.
Indigo - Sour Wheat Beer with Foraged Fruit 5%// The Wild Beer Co x Side Project
What the booklet says: Our Rainbow Project beer is a Transatlantic sour wheat beer, with Somerset foraged fruits. The base water has been infused with foraged seaweed from the Cornish coast to give an umami saline character. We have used our house wild yeast cultures and at the peak of fermentation added foraged elderberries and blackberries from local hedgerows.
Expectations: Not much to say about this one. Fruity sour? Sounds like it will be fine. As with Blue, it's not overly exciting for this project but I might be surprised.
Reality: So, it's now January 2018 so this bottle is a few months old. I'm not sure if I have a duff bottle or the passage of time has done something to this but it genuinely tastes of nothing. It smells like a sour should but if I drank this with my eyes closed I would guess it was water. Really disappointed as pouring it out I was impressed with the great colour it has. Hmm. Nevermind.
Burial Vault - White Stout 8.4% // Burning Sky x 3 Floyds
What the booklet says: Bashing ideas out with 3 Floyds, we found solace in this White Stout. A huge grain bill was rounded off with some lactose in the kettle for softness. Aged in a mix of Burgundy and Bourbon barrels for a deep oak and subtle violet flavour.
Expectations: Saving the best until last, this is the beer I'm most looking forward to trying. White stouts are quite a new style for me and I've enjoyed the few I've had so far - they are slightly less heavy than traditional stouts. I like the sound of the two different barrels used and hope the flavours come through.
Reality: A bit of a let down this. I'm getting the oak and bourbon and a lot of vanilla but not much else. It's very, very thin which just makes the whole thing a bit confusing. A shame really as this one had the most promise from its description.
Summary
A bit of a mixed bag this year. Whilst I enjoyed some of the beers (red, yellow and blue - primary colours, how weird) the majority were a bit rubbish. Even the ones I enjoyed I am not in a massive hurry to try again. I get that the whole point of this box is experimentation but I this year has definitely been a miss. Hopefully 2018 can bring better results.