Drunk in... July
We're a bit late posting up July's Drunk in... mainly because we've been so busy travelling, trying some fantastic new craft beers, and attending amazing beer festivals over the summer. The good news is that we will have some exciting new posts coming soon to cover all of our adventures. So without further delay, here is what we were drinking in July...
Brazilian Breakfast - Coffee Milk Stout 6.5% // The Southsea Brewing Co.
Brewed in conjunction with Hunter Gatherer Coffee to celebrate the brewery's first birthday comes this fantastic coffee milk stout made with maple syrup and waffles because why the hell not? Picked up at the brewery pre-Warrior Fest, this probably wasn't a wise choice to start the day with but I'm not one to make logical choices when it comes to beer. As it was absolutely pouring down with rain, we couldn't enjoy our takeaway beers on Southsea Common so had to settle for drinking in a bus shelter like a bunch of tramps. However, tramp juice this is not - pure decadence is what it is. The coffee comes through first before the lactose and maple syrup gives it a wonderfully sweet, dessert-like finish. One more for a winter night than a rainy summer day but it did the job either way.
JURASSIX - Double IPA 8% // Staggeringly Good
This month's Drunk In… has a decidedly Pompey feel so far as my second choice this month comes from another south coast brewery in Jurassix from Staggeringly Good. Brand did a comprehensive write-up of the launch event of this beer and, being a gent, hooked me up with one of the beers from his six-pack. It was worth the wait as this was cracking. Probably the most resinous DIPA I've had, Brand's comparison to the amber fossilized tree resin from Jurassic Park was absolutely spot on. Look at that colour! Slightly envious he has three cans of this excellent beer left. The jammy bastard.
Key Lime Pie - Sour Gose 4% // Westbrook Brewing Co.
I'd had the original version of this beer at the start of the year just when I was beginning to appreciate sour beers as a style a little more and so by the time July rolled around and I got my hands on the key lime pie version (courtesy of the always excellent Ghost Whale), it was destined to be a welcome encounter. This is better than the original and is essentially alcoholic limeade. Salty gose flavours up front before the sourness kicks in and the limey finish lingers in the mouth. Zesty!
Dialed In (w/ Sauvignon Blanc Juice) - Double IPA 8.5% // Trillium Brewing Company
We hit up Beavertown Brewery for Brand's birthday (that's a lot of b's!) in July and timed it brilliantly as they had some Trillium beers leftover from a tap takeover that ran the weekend before. I'd heard rave reviews about the Boston-based brewery for quite a while now and so getting a rare chance to sample some of their beers on tap in the UK was something I was not going to pass up. I managed to work my way through all four of the beers they had on offer but this juicy number was my favourite. Trillium are famed for being absolute masters of the IPA and it's easy to see why. This mother is dry-hopped and then dry-hopped some more with a whole bunch of hops which helps to really bring out the fruity flavours. Sauvignon Blanc juice is added mid-fermentation and there is a very subtle crisp, dry white wine finish because of this. Definitely worth the hype.
Ramblers - Double IPA 8% // Gipsy Hill Brewing Co. x DEYA Brewing Company
I tried to steer clear of picking too many DIPAs this month after the love-in in June but couldn't resist adding this collab between Gipsy Hill and DEYA. Thick and oaty, this was so smooth and had such a well-rounded flavour that, as much as I wanted to savour it, I had chinned it in a very short space of time. I just wish I'd bought several more bottles. DEYA are building themselves a nice little reputation for such a new brewery and I feel their influence on this beer is why it's so good. I've had several Gipsy Hill beers in the past and none have really struck me quite as much as this one has.
Humalaya - Double IPA 7.2% // Amiata Brewing Company
After traipsing around Florence, we decided to check out Fermento for lunch, mainly because they had a good beer list despite being in the heart of the touristy area. I opted for this as I'd never had a tropical milk IPA so was intrigued. A whole host of Slovenian hops are used in this which I don't think I'd come across before - Styrian Wolf, Styrian 102 and Styrian Cardinal. This gave the beer both a tropical feel and also a slightly aniseedy, bitter taste. Lactose is added to give the beer a creamy, milky finish. A welcome beer to sip in the sunshine watching the world go by and an introduction to lactose-based IPAs!
Hydra - American IPA 5.5% // Archea Brewery
Another from our Tuscany trip - I managed to try a few of the excellent Archea Brewery's beers whilst in Florence recently (review coming soon) and this was the pick of the bunch. It was just a simple IPA but done exceptionally well. The hot weather made it all the more enjoyable as it quenched my thirst and then some, although it was more piney than in-your-face hops. Bizarrely, the beers are actually brewed in Rome so the place being called the brewery is slightly misleading. Not that I cared. The beer was still great. Hail Hydra!
Patrons Project 1.04 Leeds Lurking, Morello Cherry & Peruvian Coffee- Imperial Porter 10% // Northern Monk x Other Half Brewing Co.
Another Other Half collab beer making the list (see last month) means I'm super excited about checking out their beer at the upcoming Beavertown Extravaganza in September. This, however, is different from the IPAs of last month and is an excellent, silky smooth Imperial porter just showing that Other Half are not one trick ponies. I hate to use the term mouthfeel because it makes me sound like more of a beer twat than I am but this really was super smooth and a delight to drink. Up front were the big coffee notes and I was sceptical about the cherry but it came through at the end, very subtly and then more as the beer warmed up. I may have said this before but Northern Monk's can design for their Patrons Project are probably my favourite designs in the UK. Peeling off the label reveals more info on the beer and the artwork. I only wish I'd kept all of the labels instead of binning them like a chump.
Liquid Cuddle - Maibock 6.5% // Marble Beers x Yeastie Boys
I popped into The Lawrence Arms in Portsmouth, a pub that I haven't visited much in recent years, to check out their craft beer selection. It was a blisteringly hot day so I wanted something to enjoy in their beer garden and I don't think I could have done much better than this collaboration between Marble Beers and Yeastie Boys. A warm red amber beer, packed with complex, tropical flavours. Most prominently, I picked up on a sweet melon flavour, it seemed like it shouldn't work but it somehow it did, I actually found it pretty moreish. I would highly recommend this if you are after something a bit different.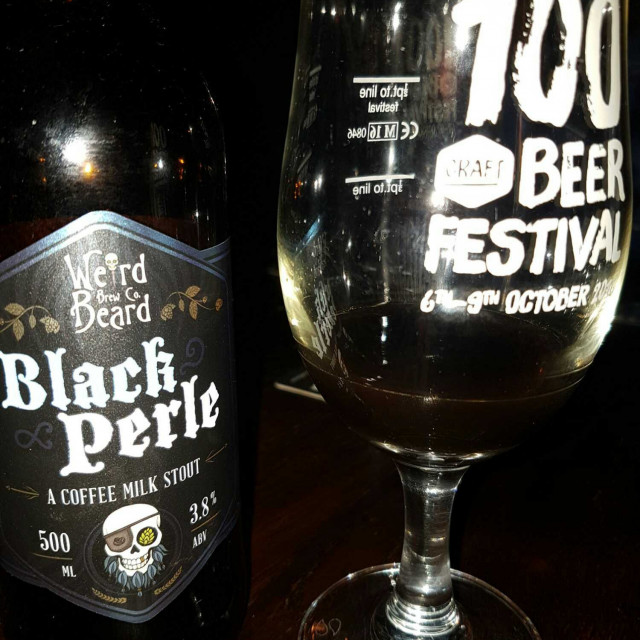 Black Perle - Milk Stout 3.8% // Weird Beard Brew Co.
What could be more appropriate feature for Warrior Fest, a beer festival on a Royal Navy ship, than this excellent stout, Black Perle by Weird Beard. Normally, I would stay away from heavier beers at a beer festival but this sweet milk stout went down a treat after sampling a few others at the festival. Brewed in partnership with Alchemy Coffee, this beer has just the right combination of coffee, sweetness and richness. At 3.8%, it's not too heavy and is a perfect breakfast beer, or in my case, a night-cap to a beer festival that didn't send me overboard.
Special Editon Drink Fresh DIPA - Double IPA 9% // Cloudwater Brew Co.
Located on the dark, damp, haunted hull* of the HMS Warrior at the 'secret bar' as part of Warrior Fest. This strong DIPA from Cloudwater was much sought after and didn't last on tap for long. Fortunately, I managed to locate the secret bar but not after wandering the ship admiring the rifles and officers galley. As expected from Cloudwater, this DIPA was excellent, full of flavour from the combination of hops, and very easy drinking.
* Please note: the HMS Warrior has excellent lighting and is well maintained by the Royal Navy. Hauntings are unconfirmed.
Beavertown Says Wit Or Wheatout You - Witbier 5.5% // Beavertown
Oh Beavertown, I can't live Wit or Wheatout you and I certainly can't live without this mothertrucking wheat beer. Another favourite from our visit to the brewery, Wit or Wheatout You, a tangy, sour mix in a refreshing wheat beer. This was like drinking beer infused with a packet of sherbert. I think this stood out most from the beers I sampled at Beavertown and this was probably the best I had all day.
JURASSIX - Double IPA 8% // Staggeringly Good
ABV A pre-historic DIPA from the Staggeringly Good guys. Packed with massively resinous flavours. I've already posted a fairly comprehensive write-up of this from the Jurassix launch event so check out the post for the full scoop on this.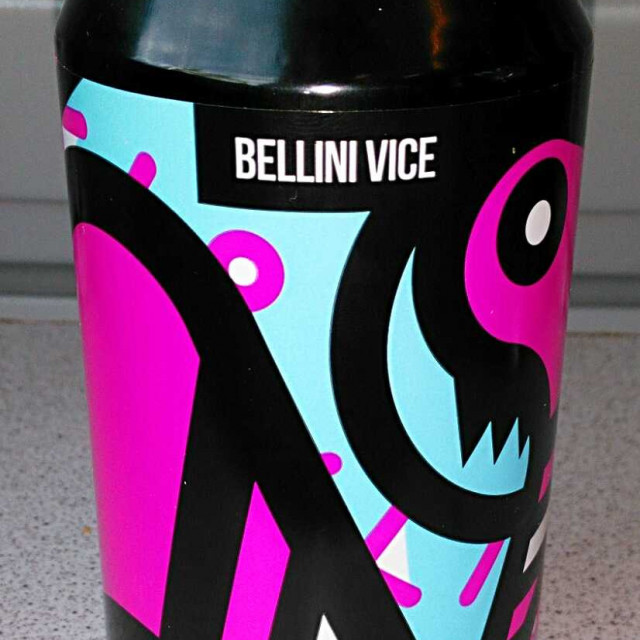 Bellini Vice - Berliner Weisse 4.5% // Magic Rock Brewing
A quick impulse grab as I was after a train beer. I knew I couldn't go wrong with picking up something from Magic Rock with the name Bellini Vice. This sour is refreshing, with raspberry and peach fruit notes, but not too overpowering on the sour front. This makes for a really enjoyable, easy drinking beer. I'm really starting to enjoy my sours, Magic Rock have set the bar high and hopefully, other breweries can keep up. Also, great can art as always from Magic Rock.