Drunk in... December
The final Drunk In... entry of the year and there's no let up in terms of quality. Christmas work parties and social gatherings saw us in less than favourable beer establishments for a lot of the month - I'll be happy to never drink another Beck's again. Combine that with buying gifts for family and friends and it was the perfect recipe to stem the flow of quality beer drinking this month. Alas, we still managed to have some choice beverages.
Read on for our top beers for December.
#YOLOmælk - Imperial Milk Stout 14% // To Øl
On reading about this beer I thought it sounded interesting - an imperial milk stout brewed with caviar and champagne yeast.
This beer is pure decadence. I've never tried caviar but I think its addition to the beer is the reason it has a slight hint of salt in amongst the rich, chocolate, coffee flavours. It works really well.
It might be the first time I've ever drank a beer this strong from a can. It almost felt like the wrong container to hold such extravagant liquid but with a design as striking as this, it's a minor niggle.
This is one hundred percent a beer made for sipping and I lovingly laboured over drinking this for quite some time.
Abstrakt AB:22 - Imperial Stout 12.5% // BrewDog
 
Another big boozey bastard. This time from BrewDog. AB:22 was actually released at the start of 2017 and had lingered at the back of the beer cupboard for the best part of a year before I saw fit to crack it open. An imperial stout made with cacao and coffee and aged for two years in Speyside whisky casks.
The official description is a tiiiny bit over the top in describing the flavours:
"chocolate ganache, cold-brew coffee, vanilla pods, molasses, chocolate-covered raisin, fudge sundae, espresso martini, toasted coconut"
Seriously? Come onnn...

The main thing I picked up was just how warming it was. Who needs to put the heating on when you've got this warming up your insides? The dominant flavour is coffee followed by the whisky punch. It's a wonderful beer and a fitting addition to the Abstrakt series.
Yellow Belly - Imperial Stout 11% // Buxton Brewery x Omnipollo
A beer I'd been saving for a while and what better reason to finally open in than my 2,500th unique checkin on Untappd?
Originally brewed as part of the Rainbow Project back in 2015, this beer got so many plaudits it has been brewed every year since. The bottle has courted some controversy from idiots accusing it of promoting the KKK/racism but they are missing the point entirely. It's called YELLOW BELLY you morons.
A peanut butter biscuit stout made with no biscuits, butter or nuts. As a big fan of peanut butter and a big fan of stouts, this was a perfect match for me. I've had the bottle for a while so some of the nuttiness had faded but the big biscuity and usual stout flavours were very prominent.
A beer fit for the occasion!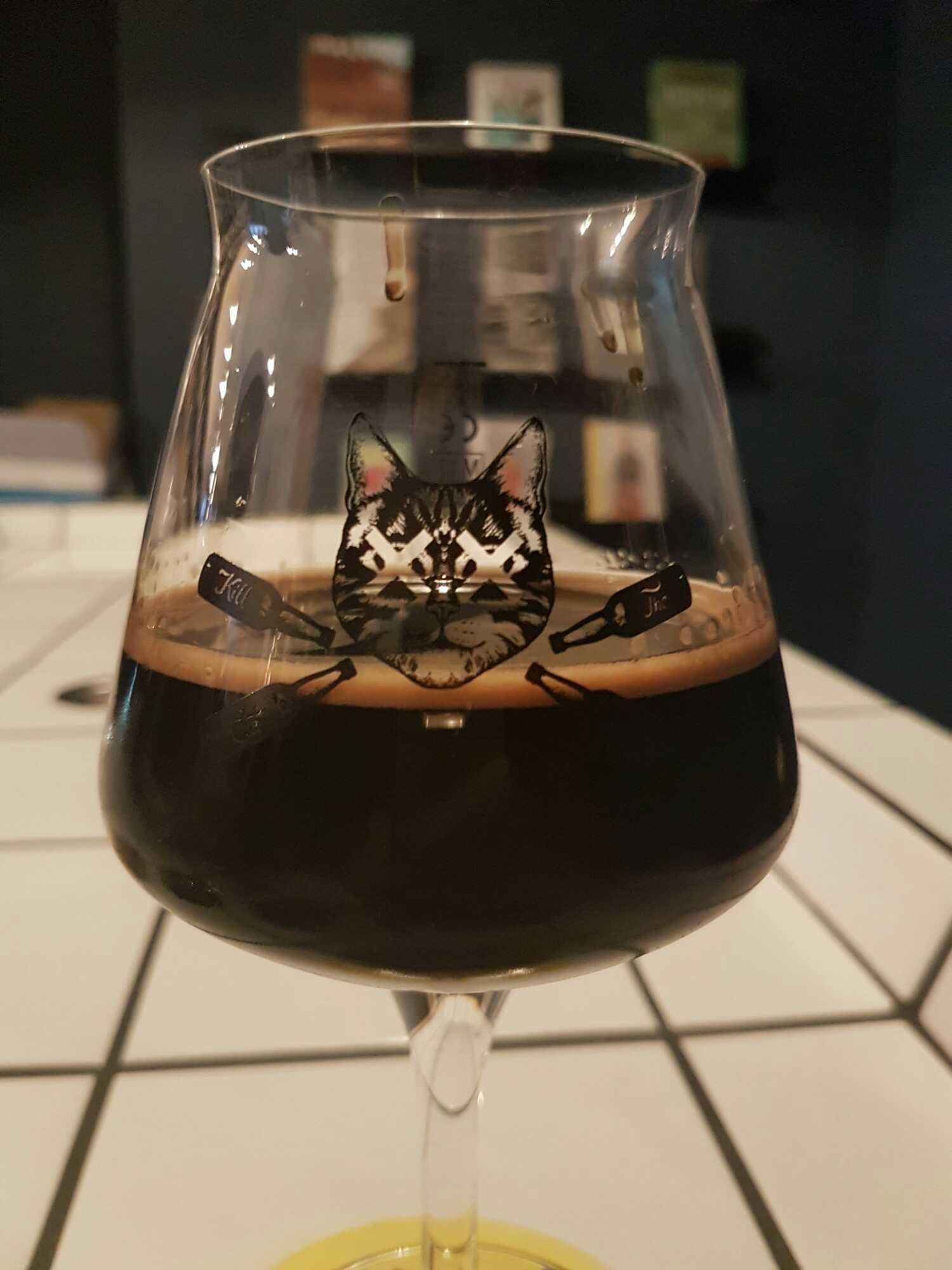 Pleasures In The Darkness - Imperial Stout 11% // Wylam x Hawkshead Brewery
It's definitely stout season - we're 4/4 for imperial stouts so far!
Had as part of a flight at excellent Brick Lane bottleshop, Kill the Cat, comes this potent number from Up North.
The beer before this was one of Cloudwater's beers from their Small series, so to go from 2.9% to 11% was a wonderful beery slap in the chops. There are no subtleties here - this is a massive stout packed with coffee, vanilla and chocolate notes.
I've only had a handful of Hawkshead beers but Wylam continually impress. It turns out they are even good at making big imperial stouts. The clever buggers.
You're in The Jungle Baby! - Imperial Stout 12% // Evil Twin Brewing x Jackie O's Pub & Brewing
MOAR STOUTZ.
I actually had this the same day as the previous beer and it proved to be the perfect nightcap to what was an excellent day trawling around various pubs and bottleshops in East London. This was imbibed in The King's Arms in Bethnal Green - a superb boozer with the always welcome addition of a central bar. It's almost rude not to pull up a stool and take a pew.
This beer was made with Pasilla chili, honey, tangerine peel and cocoa nibs apparently. I don't particularly remember the fruit flavours but do remember the heat from the chili paired nicely with the sweetness of the chocolate.
Ending a pub crawl on a 12% beer is probably not something I should make a habit out of.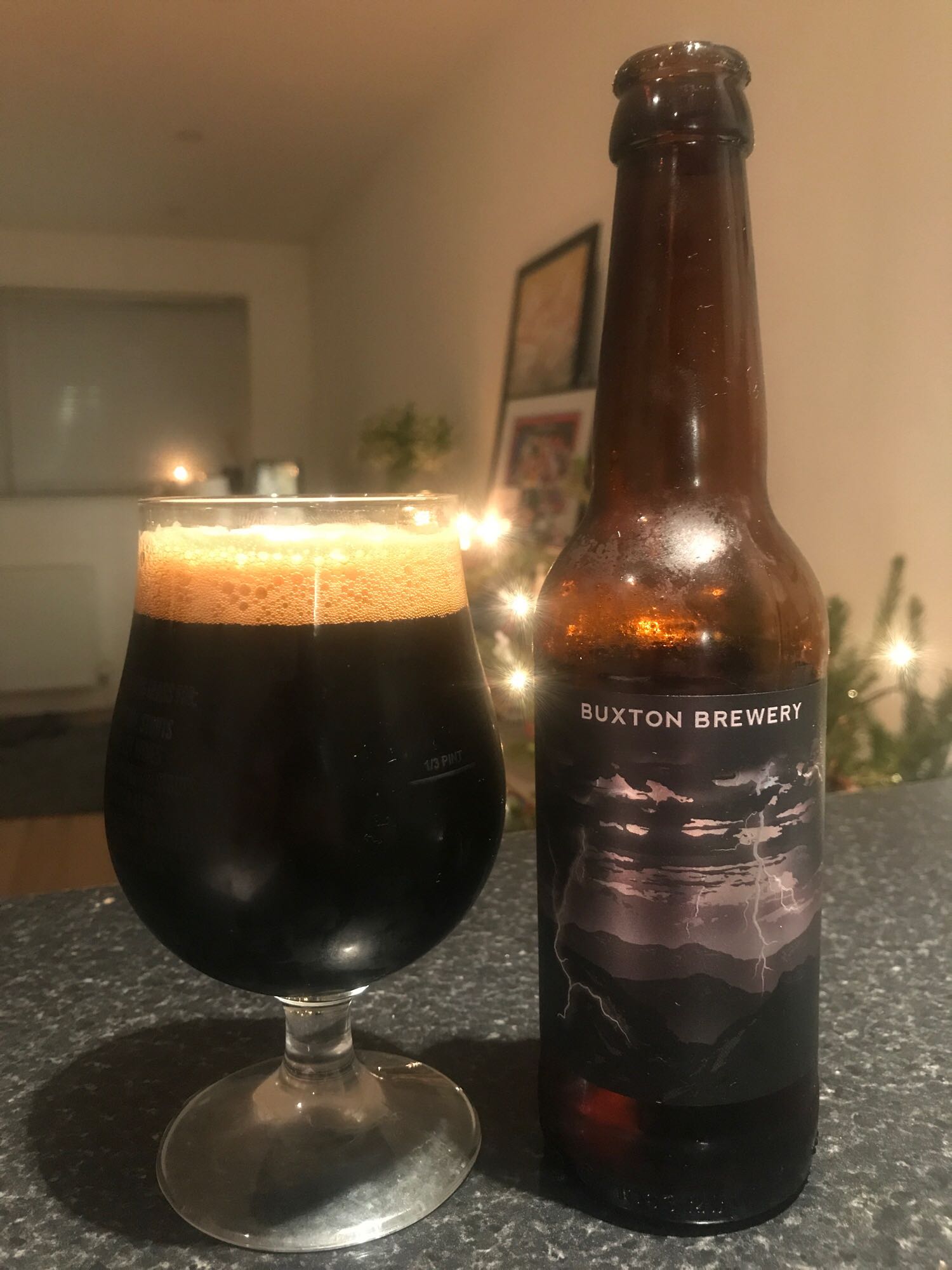 Rain Shadow - Imperial Stout 10% // Buxton Brewery
This turned out to be my final beer of 2017. And what a beer to end on.
I'd been trying to hunt this beer down for the best part of a year so had to put in one last booze order when I saw it pop up online.
It's deep and complex with a wonderful roasted malt backbone pushing this towards the bitter end of the stout spectrum. It came after a pretty big meal out and so I took my sweet time over this. And I'm glad I did as it really improved as it warmed up.
Apparently this beer took 8 months to make and went through various edits before Buxton were happy with it. Good things come to those who wait it seems as this was a knockout end to 2017.
Now to hunt down the single barrel editions...
There's A Beer In My Fridge, And I Need A Drink - Rye IPA 7.2% // Lervig x Cloudwater Brew Co.
And to end on a non-stout note now with this ridiculous beer from Lervig and Cloudwater - a double dry hopped hazy rye IPA.
After tasting this I'm surprised to not see more beers of this style. The addition of rye is superb and gives this juicy beer a beautiful spicy, smooth edge.
If memory serves, I think I said 'WOW' and did a double take at the can. It was by far and away the best beer I had over the Christmas break and one I'll definitely return to should I get the chance.
Also, one of my favourite named beers of 2017!
(Forgive the festive glassware, it was Boxing Day and I'd gone back to Somerset to see my family so drinking vessels were somewhat limited!)
Grapevine - Pale Ale 5.4% // Fallen Brewing Co.
A belated birthday gift from Beer Voyage Friend and, at time of writing, Scotland resident, Jabo. We were lucky to receive a selection of Scottish beers and this pale ale from Fallen Brewing Co was my pick of the bunch.
This new world pale is packed full of hops with the citra hops being the star of the show here. The balance of four different hops and four different malts is managed really well and leads to a really refreshing, easy drinking pale ale. This would go down a treat in the summer.
Thanks buddy!
S'Our Gym - Sour Ale 4.6% // Brewheadz
With Christmas time comes lots of (often terrible) Christmas themed real ales. Brown twiggy beer that all have the same flavour profile.
In an effort to buck this trend I tried to branch out in December and seek out a range of different styles. This sour, made to celebrate the first birthday of Brewheadz, was incredibly fruity. It is packed full of pineapple, mango, orange, and passion fruit flavours. Also apparently guarana was added ('to give you strength for your workout'), although I have no idea what that actually tastes like.
I'm not sure hitting the gym after a few of these would be advised but it was definitely a refreshing change to Rudolph's Revenge and Winter Warmer and the like.

The Crimson Bird With Raspberries - Saison Farmhouse Ale 6.1% // Naparbier
Around November time, I had the great idea to order twelve beers for a special seasonal '12 beers of Christmas' post, with each line of the Christmas song having a beer selected by yours truly to go along with it.
Unfortunately, my tardiness got the better of me as usual and I didn't do anywhere enough planning. As well as this, it's really difficult to find beers that fit the song lyrics (ten lords a leaping anyone?). So the plan was abandoned no sooner than it had been dreamt upt.
I ordered this as part of this project, fortunately my efforts were not in vain as this is a lovely beer. With plenty of raspberry flavour, this is a really pleasant, smooth drinking farmhouse style saison. I need to try more of Naparbier in general and look forward to trying the strawberry version of Crimson Bird.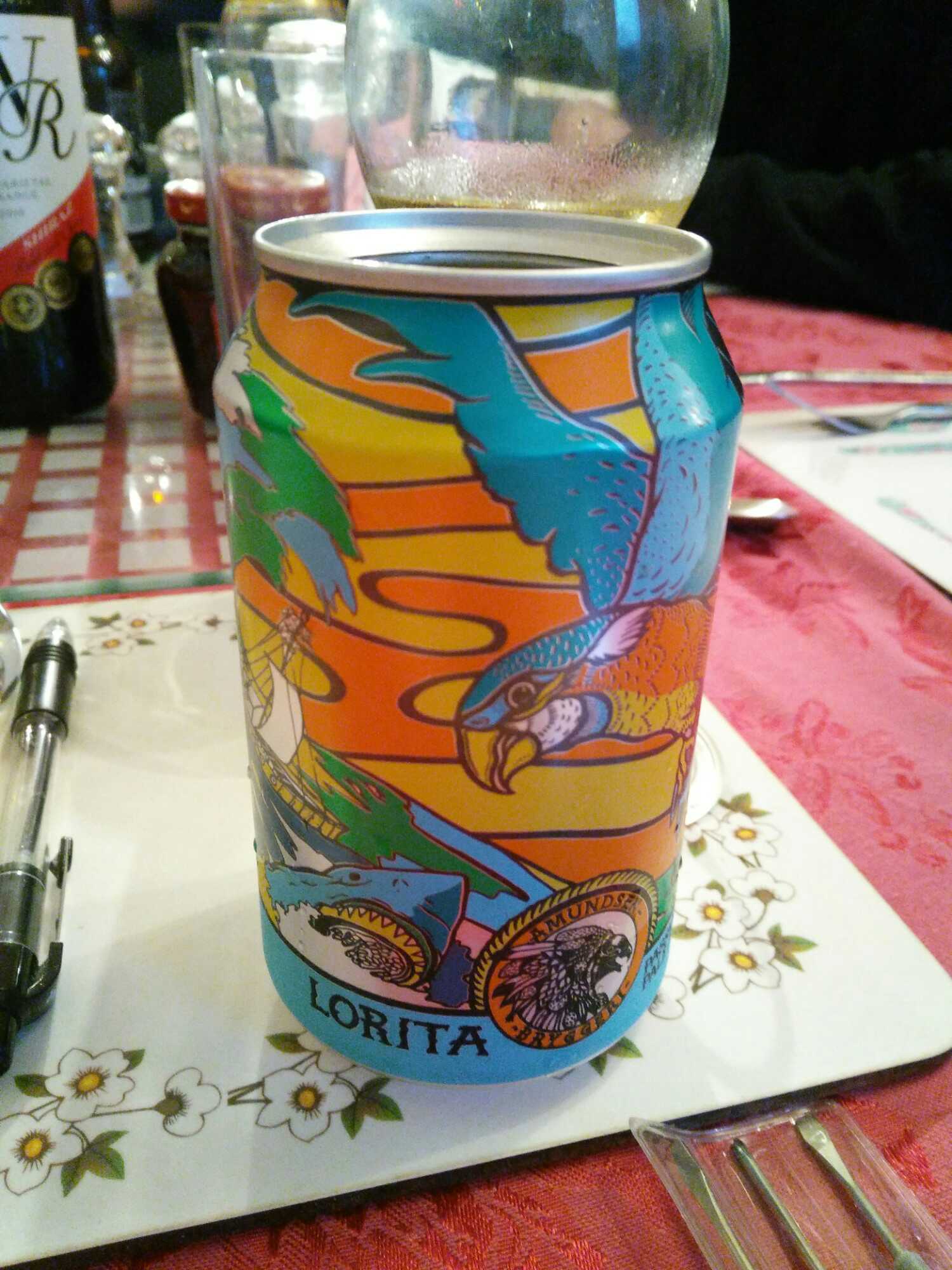 Lorita Passionfruit Pale Ale - Pale Ale 4.7 % // Amundsen Bryggeri
This was another one from my Christmas beer order (though not part of the theme, I just liked the can) and my first time trying anything from Norway's Amundsen.
I had heard good things about Amundsen and their colourful cans have caught my eye on a number of occasions. This is also one of the few 'topless' cans I've had (I seem to be late to the party there).
As expected from a passionfruit pale, this is massively fruity, with strong tropical flavours. Another really easy drinking beer, I'll definitely be trying more of Amundsen's range in the future.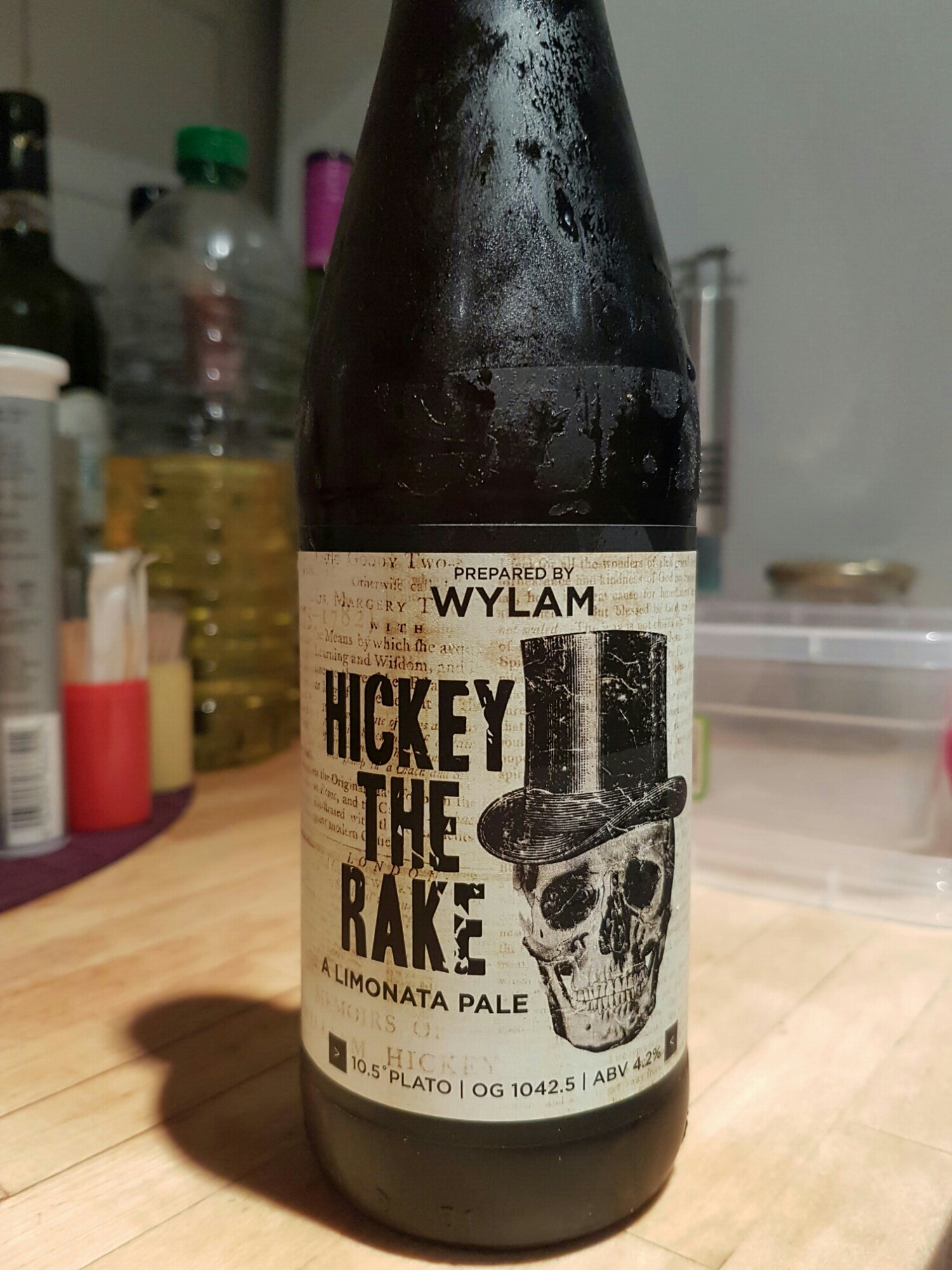 Hickey the Rake - English Pale Ale 4.2% // Wylam
After hearing good things about Wylam from Hedges, I picked up a few of their bottles including Catcher in the Rye, Swipe Right S.P.A, and this pale ale, Hickey the Rake.
Hickey the Rake is branded as a 'Limonata Pale' which promises 'almost toxic levels of citrus zing'. Whilst personally, I found the citrus a little underwhelming, I did enjoy the mild sherbet like fizz and the fruity lemon, lime and pineapple flavours. This was a lively mother!
This pale ale is ultra smooth, light and really easy drinking, I could happily drink this all night.
(With thanks to Beer Voyage Friend, Chris for the photo)
Bombay Dazzler - Witbier 4.8% // Northern Monk x Gateway Brewing Co
Although not brewed as a seasonal beer, I think Bombay Dazzler is the perfect Christmas beer.
Packed full of warm spices, including coriander, cardamon, and ginger, this witbier is refreshingly light whilst packing plenty of taste. I would say that this is a good accompaniment to food, particularly whilst stuffing your face at Christmas as you don't want anything too heavy.
I've since had this at Bundobust Leeds and it pairs really well with Indian food. An excellent collaborative effort between Northern Monk and Gateway Brewing Co and a fantastically designed can.