Drunk in... September
We've decided to omit any beers we devoured at Beavertown Extravaganza for September's edition of our monthly Drunk In… feature. Mainly to avoid repeating ourselves. You can already read about all the amazing beers we sampled at BeaverEx in our review of the event. Other beers we were enjoying in September include...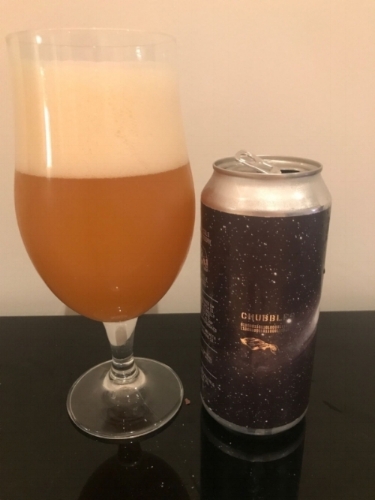 Chubbles - Triple IPA 10% // Cloudwater Brew Co. x The Veil Brewing Co.
Murkzilla. Probably the cloudiest beer I've had in a while comes the first of two collaborations between Cloudwater and The Veil this month. Not only is Chubbles a great word to say out loud, it's also a fantastic beer and one of my favourites of the year so far.
Punchy, smooth and very well-rounded, this beer is everything you want from an Imperial IPA and one of the most balanced examples of the style I've ever had. I enjoyed this so much that it was dangerous how quickly I managed to polish off a 10% beer. Definitely glad I bought two of these beauties!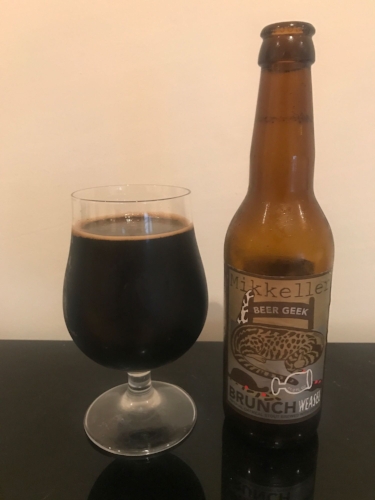 Beer Geek Brunch Weasel - Imperial Oatmeal Stout 10.9% // Mikkeller
I purchased this during last year's visit to Copenhagen and had been saving it for a special occasion - what better way to console yourself that you're an old shit than with this incredible number? The last beer of my twenties and what a beer it was.
This beer is made using one of the world's most expensive coffee, made from the droppings of civetcats - weasel-like animals that love to dine on fresh coffee berries. I'm pleased to say this beer does not taste anything like shit. Instead it's probably one of the best imperial stouts in the world. It's a bold statement but fully justified. It's bitter, sweet, nutty, milky and delicious. Yes!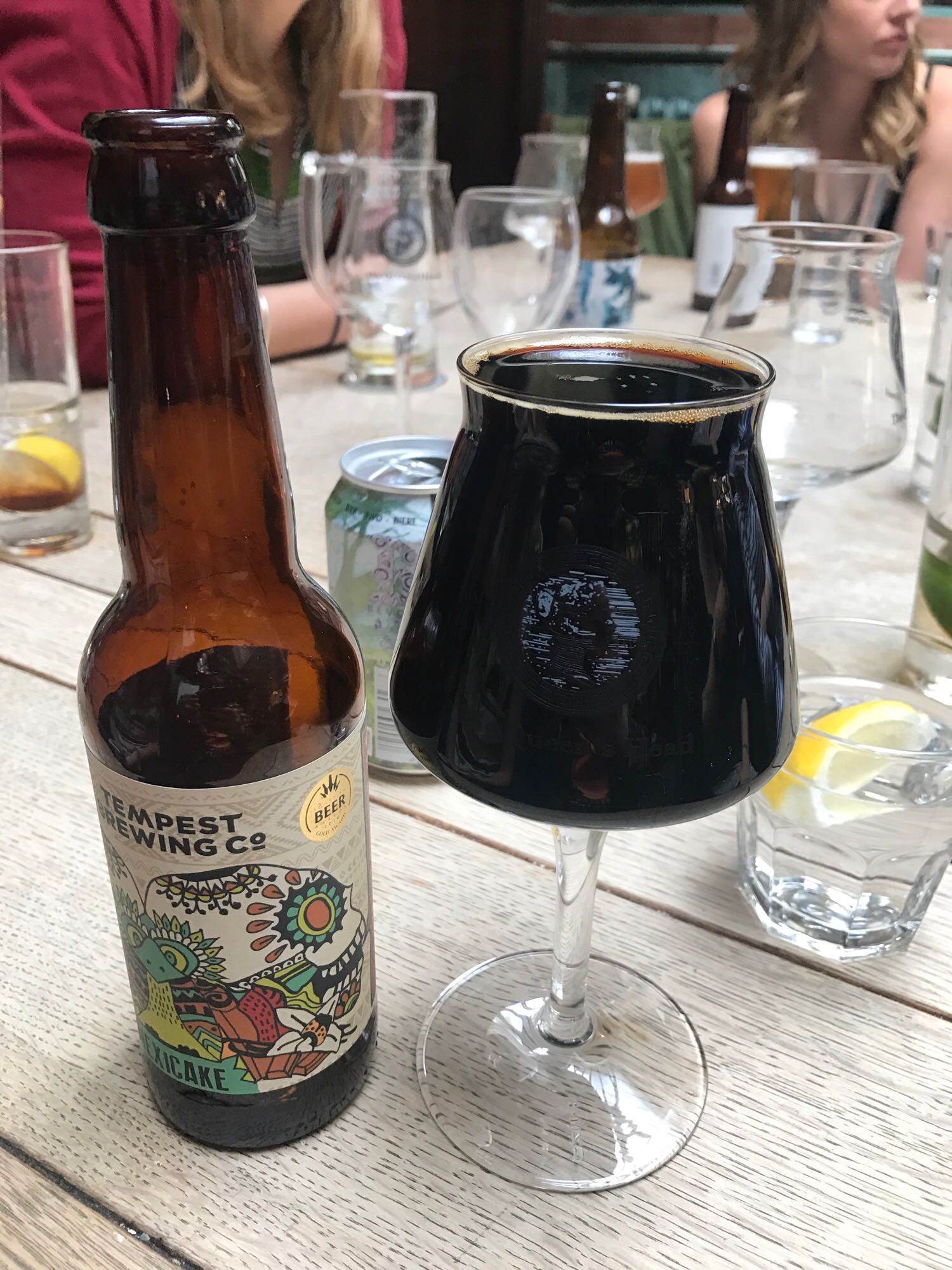 Mexicake - Imperial Stout 11% // Tempest Brewing Co.
Tempest's Mexicake series had long been on my list of must-try beers for a while so I was pleased I saw this in the fridge at the Queen's Head. It was perfect timing, or just dumb luck, as I had it just as my incredible birthday cake was presented to me - seriously, how awesome is this cake? (Made by the fantastic Parkton Bespoke Bakery - thanks, Claire, not that you'll ever see this!)
What better combo than an indulgent chocolate cake and a massive chocolatey imperial cakey stout? Cinnamon, vanilla, cocoa, and chillies are the order of the day here and sipping this alongside a slice of chocolate/stout cake may be one of my favourite food and beer pairings from recent memory.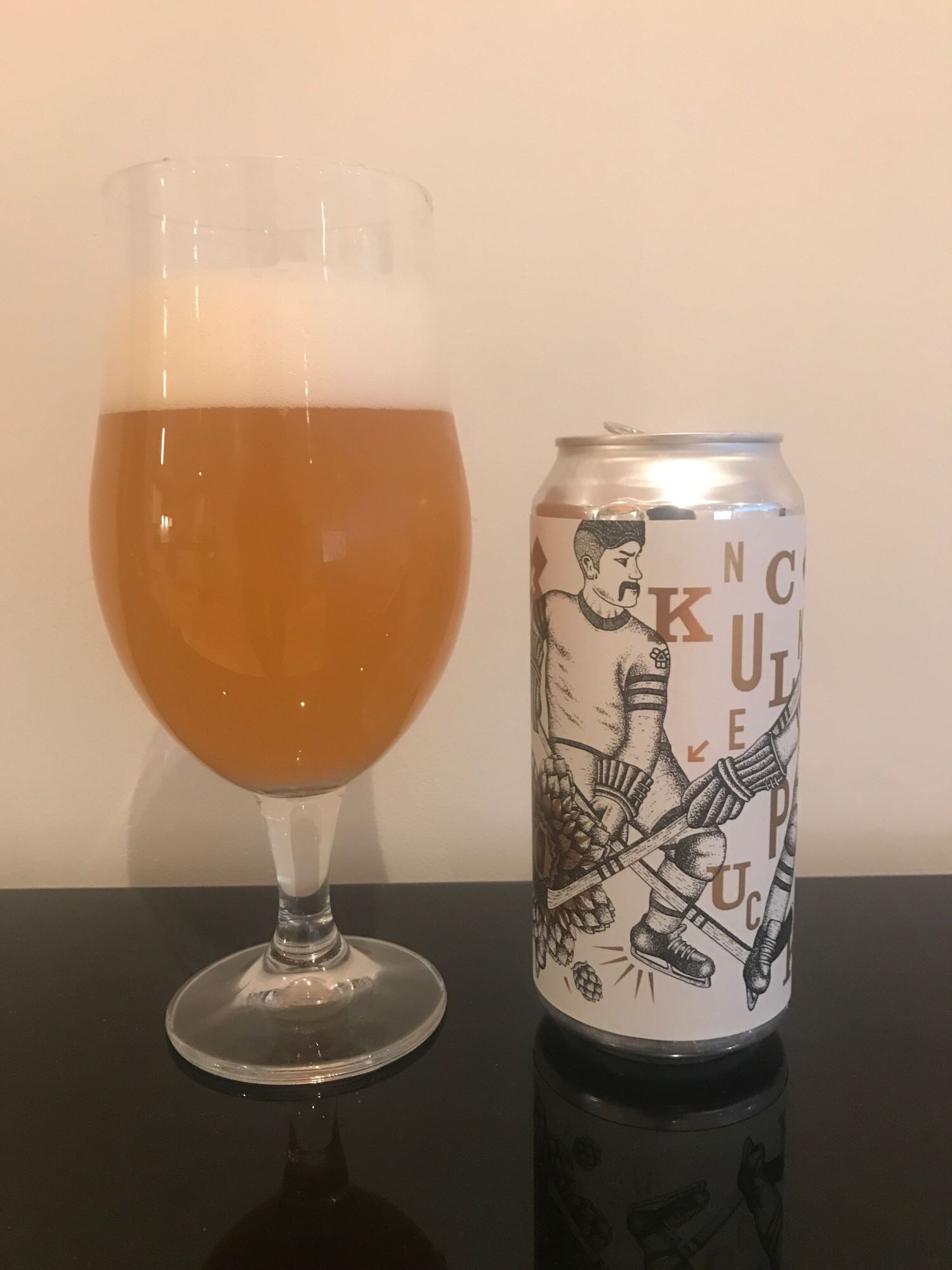 Patrons Project 6.02 KNUCKLEPUCK TIME (Jon Simmons) - Double IPA 8.5% // Northern Monk x Bissell Brothers
Northern Monk's Patrons Project continually conjures up some absolutely stunning beers and this collaboration with Bissell Brothers is no different. I'd not really heard of the Bissell Brothers until earlier this year so was interested to try a beer from them (well, in part) due to their huge reputation.
The one thing I noticed with this beer compared to many others of its style was the bitter aftertaste which was way more prominent than some of the other NEIPAs I'd had around the time. It was a refreshing change from some of the lighter numbers that almost don't taste like beer so the bitter finish was a pleasant reminder that it was a drink for adults.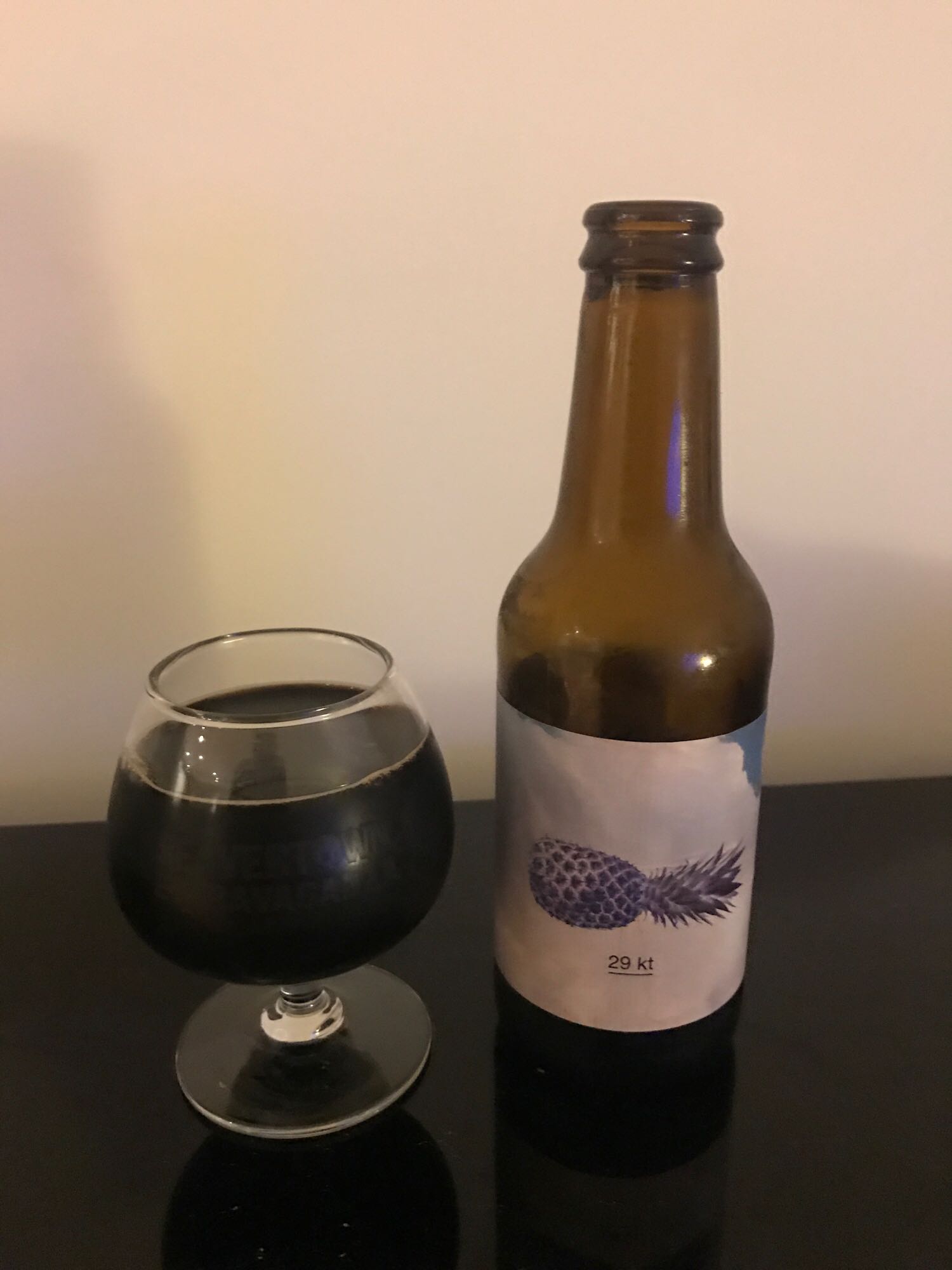 Pineapple Express BA - Imperial Stout 10.5% // To Øl
Despite having a name that you'd likely expect to delivery an IPA of some sort, those deceptive chaps at To Ol brewed an imperial stout with pineapple! This version saw it barrel-aged in whiskey and cognac. And boy can you taste those spirits. This is a beer for grown-ups and definitely one to sip. The pineapple took a while to come through as the big punchy flavours from the whiskey and cognac took center stage. Once the beer warmed there was a subtle hint of pineapple which really elevated the beer and made it surprisingly light overall. I really want to try the regular version now!
Taco & Cat - American IPA 6.7% // Cloudwater Brew Co. x The Veil Brewing Co.
Bookending my choices this month comes another collaboration between Cloudwater and The Veil. We picked these up from Cloudwater's brewery after heading up for IndyManBeerCon (review coming soon) and couldn't wait to crack them open as soon as we got back to our hotel room. You'll have to forgive the plastic cups due to our over-excitement.
These two beers were brewed with the same hops, malts and yeast but with a twist to be revealed at a later date. Cloudwater welcomed feedback on both beers before they spilled the beans on what this difference was.
We took turns sipping each beer to try and work out if we could detect any changes and at first thought it may have been an elaborate troll and they were identical. However, the further we got through the two beers, we began to notice some subtleties - the Taco version was slightly less bitter and tasted a little lighter whereas the Cat was a bit harsher in bitterness and warming from the fresh hops.
Cloudwater made the big reveal a few days ago and… *drumroll*... 'the only guaranteed difference being the distribution channel the hops had passed through before being used in the beer'.
It was an interesting experiment and was interesting to discover that such a small difference can produce quite a different beer in the end!
You can read about the difference between the two beers on Cloudwater's blog here.
Red Robot - Double IPA 7.5% // Brewski
Brewski, from Helsingborg, Sweden has been on my radar for some time and I was keen to get my hands on some of their beers. Luckily the local bottle shop had recently received a delivery. By the time I got there though they had all gone… then out of the corner of my eye, I spotted this adorable little red robot looking on the shelf. I couldn't leave him on his lonesome so I picked him up and took him home. This strong double IPA contains a melody of tropical flavours; passion fruit, pineapple, and mango, which all combine brilliantly in this fruity concoction. I'll be looking out for more of Brewski's range and hopefully, they won't all be sold out next time.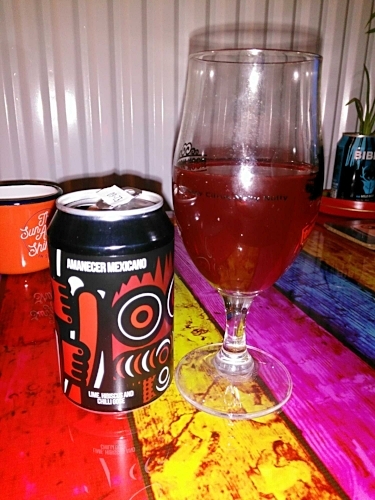 Amanecer Mexicano - Sour Gose 5.8% // Magic Rock Brewing x Casita Cerveceria
The 'red' entry for the 2017 Rainbow Project and a collaboration between Magic Rock Brewing and Casita Cervecería. Amanecer Mexicano promises lime, hibiscus and chilli in a sour gose. This is an interesting one, I didn't get hibiscus (I'm not actually sure what it tastes like, to be honest) and the chilli is dry and subtle but it is packed with sour lime. This is probably a bit over the top for a lot of palettes but I found I really enjoyed the sour-chilli kick. It is vibrantly red in colour, a perfect entry for the Rainbow Project.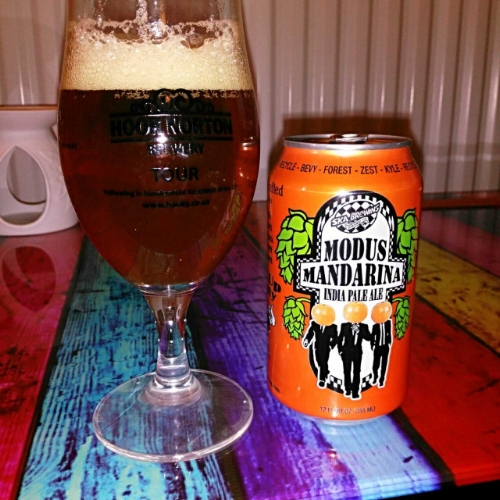 Modus Mandarina - American IPA 6.8% // Ska Brewing
I first heard of Ska Brewing and their Modus range of beers when I was travelling stateside and spotted some of their artwork with the iconic ska man at the beer memorabilia museum at Minhas Craft Brewery in Monroe, Wisconsin. Being a fan of ska music in my younger days (the shame), I was instantly drawn to the artwork and it stuck with me until I first saw their cans over here a couple of years ago. I was pleased to get to try Modus Mandarina, their orange version of the Modus Operandi. This is a refreshing, well balanced IPA. It's not overly fruity, which is a plus to me and has that darker, marmalade type flavour that I think works well in beer. I much prefer this over some of the other orange flavoured beers I've had like the recent Prototype Tangerine IPA by Brewdog. This is a classic that I could go back to.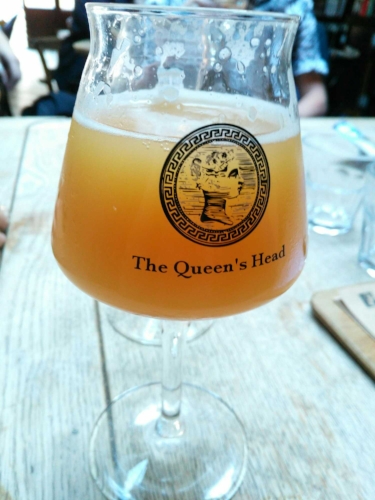 MaryLou - American Pale Ale 5.2% // Verdant Brewing Co.
It was the day after Beavertown and we were feeling surprisingly fresh (must be the 100ml pours). We headed to the Queens Head, a fantastic little pub located in Kings Cross. This pub is a real gem and I loved the decor, a real traditional Landan boozer. They also had a brilliant beer selection where I was pleased to try this gorgeous pale ale from Verdant. Mary Lou is a juicy, hazy pale ale which features rich melon and vanilla flavours. After all of the sampling at BeaverEx you would expect us to be ultra critical but Mary Lou scores top marks.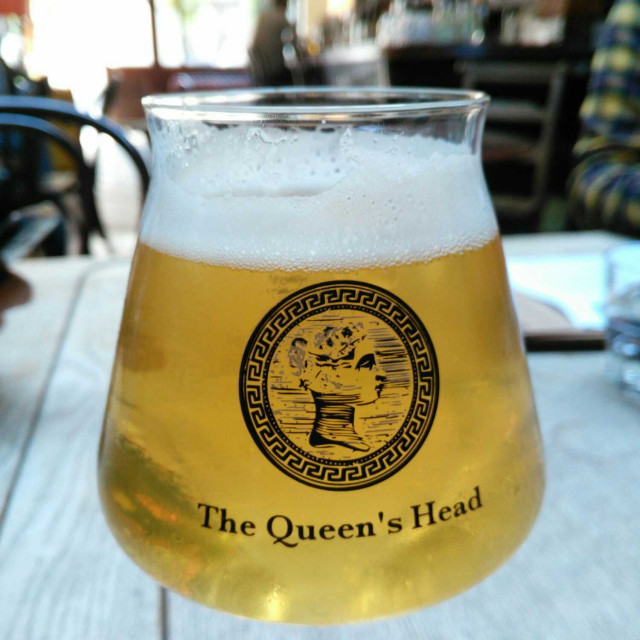 Pompelmocello - American IPA 6% // Siren Craft Brew
Another winner sampled at the Queens Head. This grapefruit IPA by Siren packs a sour punch. I love grapefruit beers and Pompelmocello features a good balance of citrus, bitterness and hops to make it massively refreshing and flavourful. A great stand-out offering by Siren who consistently produced some amazing beers.